I received this courtesy of Walker Books
in return for an honest review.
Pub. Date-

March 6th 2014

Publisher- Walker Books
Pages- 384

Genre-

Contemporary/YA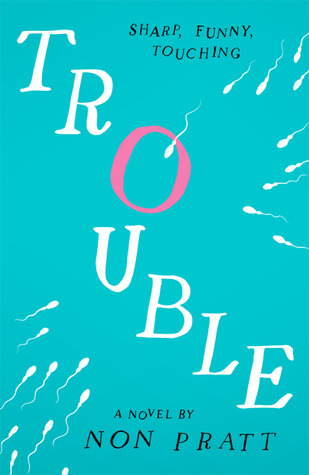 In this dazzling debut novel, a pregnant teen learns the meaning of friendship—from the boy who pretends to be her baby's father.




When the entire high school finds out that Hannah Shepard is pregnant via her ex-best friend, she has a full-on meltdown in her backyard. The one witness (besides the rest of the world): Aaron Tyler, a transfer student and the only boy who doesn't seem to want to get into Hannah's pants. Confused and scared, Hannah needs someone to be on her side. Wishing to make up for his own past mistakes, Aaron does the unthinkable and offers to pretend to be the father of Hannah's unborn baby. Even more unbelievable, Hannah hears herself saying "yes."




Told in alternating perspectives between Hannah and Aaron, Trouble is the story of two teenagers helping each other to move forward in the wake of tragedy and devastating choices. As you read about their year of loss, regret, and hope, you'll remember your first, real best friend—and how they were like a first love.
Hannah is a 15-year-old student who doesn't like to party and get with boys as much as her friends think she does. Aaron is the new kid at Hannah's school. He's just trying to fit in, not make waves or let anyone find out about his past. They are as different as two could possibly be or so they think but both are struggling to cope with accidents that changed their lives forever. Aaron is a shy boy who is just trying to fit in to make his parents happy after an accident and they outcome afterwards makes them worry continuously. He is as shocked as anyone when the basketball boys take him up as a friend and invite him to hang out at the park where everyone goes to drink and hook up.
This is where he meets Hannah in her element after just seeing her at school. Hannah is just a girl just trying to keep her family off back and have a good time. Even though Hannah goes out to the park and parties with everyone she's not into it as much as everyone thinks. When combining Hannah's terrible best friend Katie and terrible reputation, when Hannah secret comes out everyone is left talking except Aaron who against all odds steps up to be Hannah's fake baby daddy to stop the harsh rumours.
Now I will fully admit when picking up trouble I was 100% expecting for Aaron and Hannah to fall in love and have a happily ever, not that I wanted that but after reading so many contemporaries that make a relationship fix everything I didn't really have hope and boy was I surprised. Trouble is a book about friendship above all else, how it can be ruined and fix, but most importantly how it can save a person.
Given that Trouble is told from both Hannah and Aaron's point of view it is such a gorgeous book. When reading contemporaries is always really easy to tell UK ones from Australian or even US. UK contemporaries tend to tell everything in a more truthful be it grittier and rough manner, which is completely needed when talking about teen pregnancy. Who wants a book that the kids are clearly partying and having sex in but it's never mentioned until the consequences happen.
Everything about Trouble hits the mark for me, from the writing to the plot everything was spot on. I really do think everyone should read this just to see how beautiful it is and if you love this cover as much as I do on Troubles tumblr page there is a series of posts about the making of it here.