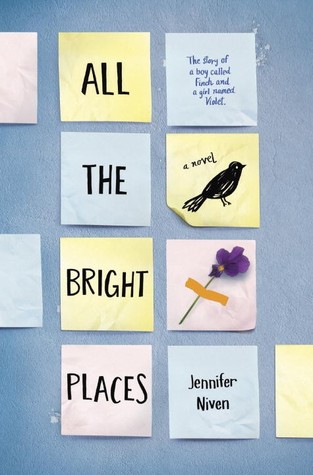 All The Bright Places by Jennifer Niven
Published by Penguin Teen Australia on 7 January 2015
384 Pages
Goodreads
Book Depository
Theodore Finch is fascinated by death, and he constantly thinks of ways he might kill himself. But each time, something good, no matter how small, stops him.

Violet Markey lives for the future, counting the days until graduation, when she can escape her Indiana town and her aching grief in the wake of her sister's recent death.

When Finch and Violet meet on the ledge of the bell tower at school, it's unclear who saves whom. And when they pair up on a project to discover the "natural wonders" of their state, both Finch and Violet make more important discoveries: It's only with Violet that Finch can be himself—a weird, funny, live-out-loud guy who's not such a freak after all. And it's only with Finch that Violet can forget to count away the days and start living them. But as Violet's world grows, Finch's begins to shrink.

This is an intense, gripping novel perfect for fans of Jay Asher, Rainbow Rowell, John Green, Gayle Forman, and Jenny Downham from a talented new voice in YA, Jennifer Niven.
I just spent the last hour in my bathtub sobbing so this isn't going to be my best review but god its going to be heartfelt so prepare for that. Up until writing this review I actually hadn't read the synopsis for All The Bright Places, so I had no idea what I was going into and simply picked up the book on the recommendation of Kelly over at
Diva Booknerd
who said it would destroy me and boy was she right.
This book is being sold as a combination of Eleanor and Park and The Fault In Our Star the later of which I have read. I fall into the unfavourable opinion that The Fault In Our Stars was just okay, as I couldn't really relate to the characters. This book blew it out of the water. It is really awe-inspiring is how relatable it is I've never connected so much with two characters and wished for them to have the best circumstances possible. I personally suffer from depression and anxiety and have at time been suicidal and to say that Jennifer Niven captured every emotion I've ever felt perfectly is an understatement. Jennifer Niven truly is a goddess of writing.
So this book follows what happens when two completely different people meet in circumstances that no one ever wants to meet someone; up on bell tower both thinking about what it would be like to jump. This is how Theodore Finch and Violet Markey meet and start their adventures. God they have such a beautiful adventures, and even that is understating it. Dealing with topics like mental illness, post-traumatic stress and most importantly suicide this book isn't a walk in the park but it is a must read for everyone.
Finch is now officially my favourite male character of all time; I really just want to hug him over and over. He is spontaneous, outrageous, a gentleman and just so alive. Finch has periods where he is asleep to the world and just doesn't function and this makes him feel different than everyone else. Throughout this book Finch really struggles to find who he is and tries out a bunch of different personas like 80's Finch and Nerd Finch and god I understood exactly what he was going through. It's hard being weird and Finch is constantly reminded by everyone at his school that he's weird. All of these things combine somehow to create the most realistic and beautiful character. On the other side of the spectrum is Violet and she is also perfect.
Violet suffers from post-traumatic after a devastating car crash took her older sisters life and her will to live. She quit all her hobbies, doesn't drive and wears her sisters glasses like they make her some how Eleanor. Violet is stuck in a constant cycle of want to not live and also be alive that gives her an inexplicable connection to Finch and considering the circumstances they met, they both find it hard to forget each other. I did find that I connected with Finch better than Violet but I think that was purely because I understood him better than Violet.
This book has duel a prospective alternating between Violet and Finch they both had such individual voices without either of them losing the underlying beautiful prose that just captured my heart. I'm not really one for adult book but I'm going to be reading all of Jennifer Niven's other books just in the hope that it's there as well. I also really loved that quotes littered this book they ranged from Virginia Woolf to Dr Seuss. Each quote was meaningful well placed and just added generally to the story.
All in all if you're even mildly considering reading this book please do and if you're not considering reading it please think about it. I honestly can't express my love this book enough it really just hit all spots.