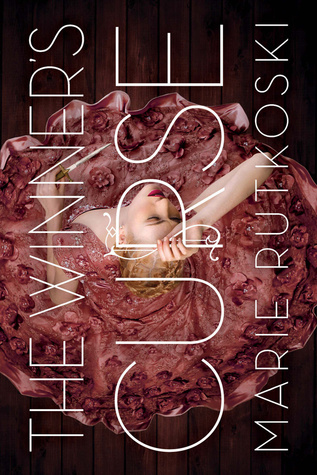 The Winner's Curse by Marie Rutkoski
The Winner's Trilogy Book 1
Published by Bloomsbury Childrens publishing house
I received this courtesy of the publisher it does not change my opinion
Winning what you want may cost you everything you love

As a general's daughter in a vast empire that revels in war and enslaves those it conquers, seventeen-year-old Kestrel has two choices: she can join the military or get married. But Kestrel has other intentions.

One day, she is startled to find a kindred spirit in a young slave up for auction. Arin's eyes seem to defy everything and everyone. Following her instinct, Kestrel buys him—with unexpected consequences. It's not long before she has to hide her growing love for Arin.

But he, too, has a secret, and Kestrel quickly learns that the price she paid for a fellow human is much higher than she ever could have imagined.

Set in a richly imagined new world, The Winner's Curse by Marie Rutkoski is a story of deadly games where everything is at stake, and the gamble is whether you will keep your head or lose your heart.
For a slow to start novel The Winner's Curse is sure worth a read. It was actually my favourite fantasy novel of last year.
The Winner's Curse follows the general's daughter Kestrel an intelligent 17 year old who does not want to make the choice that every Valorian must make at 20; to either marry or enlist in the army. Kestrel just wants to play the piano, which is not a suitable past time, as music is only for slaves. When utterly drawn to a young male slave during an auction Kestrel pays a huge sum for him and she comes away with Smith. With a slightly slow first half this book soon builds into beautiful political plotline and a wonderful romance between two perfect characters.
As I said above this was one of my favourite novels of the year for some many reasons that all just make this a perfect book. It has wonderful world building that never felt like anything was missing or had huge information dumping points. The world had quiet a roman feel that really detailed but not so much that everything felt cluttered. The relationship between the Valorian and the Herrani people was really well developed and explain as the story progressed.
The characters in this book also make it stand apart from the rest just like the world building they are so detailed and amazing that it just makes me smile like a manic to think about it. Kestrel is definitely one of the best female protagonist I've read about in a while with her strategist brain and strong will she makes some really hard choices that I'd certainly struggle with. While having such good qualities Kestrel is by no means prefect she is whiny and can some times be irritating but all of this I found made her a well rounded character. Smith or Arin as we find out he's really called is just as perfectly flawed as Kestrel and that makes their slow burning romance oh so swoon worthy.
The ending of this book is a killer to say the least with out spoiling anything and you can bet your bottom dollar I would fight to the death for the next book in the series. All in all this is a great book to read and I would recommend it anyone.